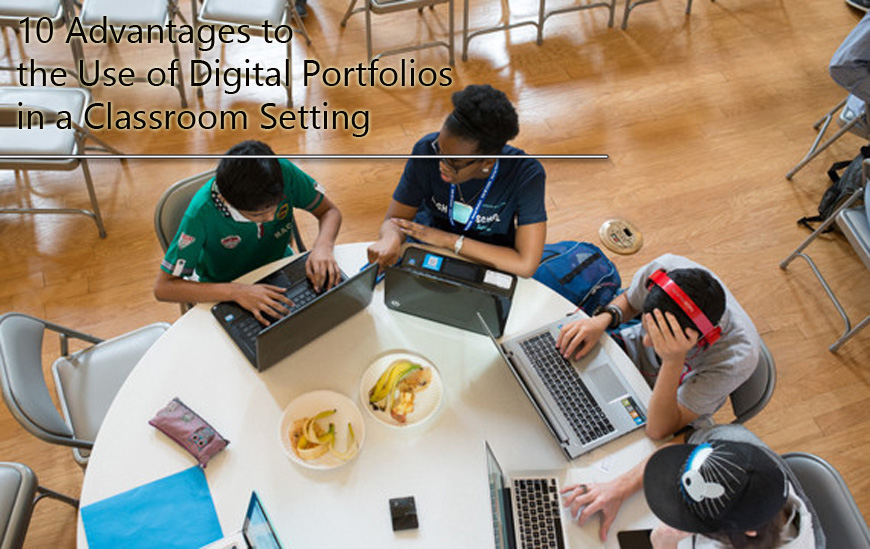 Digital student portfolios are a recent gift of in-class technology initiatives that both parents and teachers stand behind. They are a set collection of online learning artifacts that showcase individual student accomplishments as well as growth over a period of time. On the whole it is a very active, engaging, and effectual form of student assessment. It also provides other advantages as well. Here are 10 reasons why you should implement digital students portfolios.
They Celebrate All Learners
Often student accomplishment takes a backseat to ceremony. An art showcase for instance only shows certain pieces selected by the teacher. A blurb in a school newsletter will only focus on a few students accomplishments as they are big enough to merit. A digital student portfolio celebrates every student for their individual accomplishments.
Facilitate Better Feedback
Opening student accomplishment to a larger audience creates more opportunity for feedback. Generally, feedback mostly consists of parents and teachers talking. But digital portfolios provide the opportunity for peer feedback as well.
Home-School Communication
A digital portfolio allows the classroom to be integrated into the home. Teachers and students can post videos, audio tracks, images, and text that will show up on a mobile devices. Parents can receive updates via smartphone or tablet. Students can continue their work and study through incoming media. It also allows parents to become more integrated into the classroom as well.
Highlight of the Learning Process
A digital portfolio not only allows student to show off their work. But also, to see how that work has progressed. Parents, teachers, and students can study their entire learning history to better understand and improve the learning process itself.
Demonstrate Progression
Portfolios are also great examples of work progression. It keeps a working record of student growth and prepares them for the future through evaluation. They can witness how they learn and master the subjects.
Maximizes Formative Assessment
The record keeping aspect of portfolios is great for formative assessment. It essentially becomes a guide that allows students to improve their learning. It also allows teachers to improve their instruction as well.
Self-Directed Learners
By allowing students autonomous responsibility in the develop of their digital portfolios, students are more likely to own the results. This means they will become driven to improve. In this aspect they will take an active part in learning.
Honor Different Ways of Being Smart
Students will also receive kudos for every aspect of learning. They may not be proficient in one type of assessment, but portfolios focus on many. This allows them to gain credit in areas not usually focused on.
Work Smarter as a Teacher
From a teaching aspect portfolios create a collection of data that evaluates performance. You can provide consistently positive feedback to parents about class activities. Focus on the child's learning capacity, and visibly show off all the breakthroughs accomplished in class.
Advocate for Students
Finally, portfolios lessen so much of the competition and instead reflect on accomplishment. Students are rated by their individual performance instead of compared to the status quo. This allows every student to stand out in their own way.